Installing TotalPurge
TotalPurge is installed using the Setup Wizard (see Fig. 1).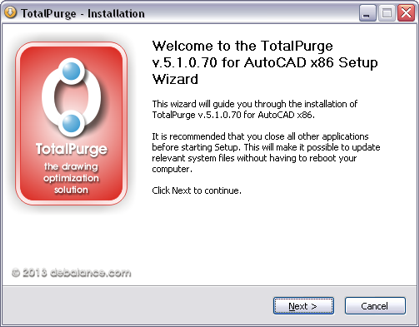 Fig. 1
TotalPurge for AutoCAD
Setup Wizard.

The Wizard searches for available versions of AutoCAD installed on your computer. In case no suitable versions of AutoCAD are found, it notifies you that the installation of TotalPurge cannot be continued.
You can find the full list of versions of AutoCAD the software can be installed with on the "Download" page.



Note. If the Setup Wizard finds several suitable versions of AutoCAD, TotalPurge will be installed for each suitable version of AutoCAD found on your computer.




To launch the installation:
Download the setup file matching your operating system's bit version (32 or 64-bit).
Close all sessions with open AutoCAD.
Run the setup file.
Follow the instructions of the Setup Wizard.